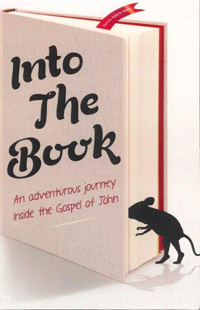 The latest book which has my interest is over 2,000 years old and still selling well. It is really a book of books so I decided to choose one to explore.
Traveling inside the
Gospel of John
is where I meet Josie. We are both surprised because she is standing on my tail and I have never met a human in a book before. This causes me great concern since her foot is in a powerful position. After some rapid discussion we decide to travel together until she can figure out how to return to her world and I to my preference of no human companion.
Since she has never traveled through a book before, I attempt to offer instruction. We cannot be seen but are able to experience all action within this recorded history. It gives both of us the opportunity to examine, in person, the man who claims to be Truth incarnate.
As we travel through the story, our first experience is with John the Baptizer. Further into our journey we see Jesus overturning the moneychangers' tables. Josie learns that this isn't the gentle Jesus, meek and mild, she heard about in Sunday school.
Even though we do have some humorous moments, there are serious discussions about Josie's unconditional acceptance of her professors' naturalistic worldviews. We experience history for ourselves and explore several topics, like the possibility of miracles and the evil of human suffering.
I found this last journey to be most interesting and educational. You can always read the account to see what Josie thinks.
Want a book signed by the author (who just happens to be a mouse)?

Fill out the order form below, and I'll send you a signed copy of Into the Book for $12.99 and this includes shipping!