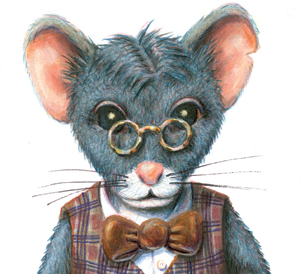 At the present time I am busy trying to figure out how to build a better mouse trap. With new technology it's possible to incorporate some sort of remote control. If the market takes off, then there will be the possibility of hacking it. That's my goal. But first things first.
Most of my day is spent in books. This makes me special, if I say so myself. Most mice chew books and use some of the pieces to make a nest. I enter into them and learn. Besides, I live in a mouse hole, so no nesting material is needed.
My home is in the kitchen closet, back under the bottom shelf. Oh, the kitchen is in Mrs.Wiggin's human house. She is Josie's grandmother and if you continue to read you will know about Josie.
I live with my mother and cousin Marcus. Life is much like a human's. We eat, sleep, and spend time in various ways. There are exceptions, like no need to go to the grocery store. Everything is already in the kitchen cupboards.
Sometimes I will go next door to the neighbor's house. He is a pastor and has an extensive library. But there is a problem. It's Beelzebub, the cat. He has gotten slower with age, but is still a dangerous foe. The pastor used to visit Mrs. Wiggins about once a week. They had some very interesting conversations about theology and philosophy. Some of the words sent me to the dictionary. But that's not a problem since I like to learn.
Portrait by Mike Hodder

The only thing different about me, from other mice, is that I am able to enter into a book and experience the story. It is a life of adventure, but even more important, it is a life of learning. There are more types of traps than mouse. A big one in life is the failure to think and discover.
Oh yes, I am also known as a natty (it means neat and fashionable) dresser, but you have probably noticed this.
In no way do I want to disparage (that is the long version of 'diss') other mice. Take for instance science. Whenever there is a medical breakthrough, who was the first to offer proof of success? Most scientists are known to say, "It has worked on mice, now we need to apply it to humans." Thank you, fellow mice.
Enough about other mice, more about me.
I think I have a traveling companion, but she is kind of iffy. Her name is Josie and I met her when I was in one of my books. Don't ask me how she got there. It's a mystery. She is a university student who is skeptical about things that I find evident and confident in things she should be questioning. This presents some challenging moments for both of us.

You won't find my name in the local newspaper or being noted by any scientist. If you want to know what I am up to, or join in my recent book adventure, then this requires a frequent visit to my website.
And that is fine with me because I would like to know you better (check my Contact page). I would also like for you to read my blog about recent travels. Of course, along with those, you will also get my opinions. Every thinker has them.